Rahat Pain Capsule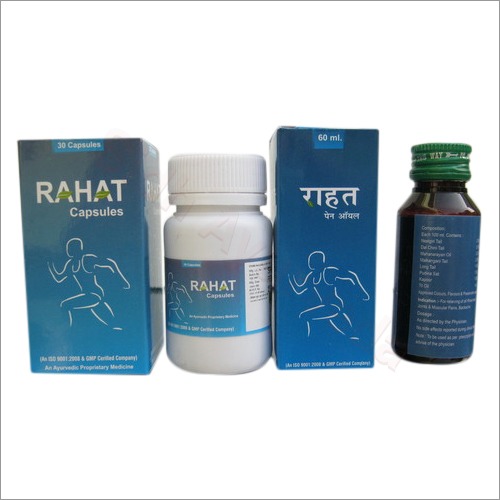 Rahat Pain Capsule
Price And Quantity
Piece/Pieces

18.00 - 75.00 INR
Product Description
Rahat Pain Capsule is a herbal supplement formulated to provide relief from various types of pain. This natural remedy is designed to alleviate discomfort and promote overall well-being. With a combination of carefully selected herbs, Rahat Pain Capsule aims to address pain symptoms while minimizing the side effects often associated with conventional pain relief medications.
Frequently Asked Questions (FAQ):
Q: What types of pain does Rahat Pain Capsule target?
A: Rahat Pain Capsule is formulated to target a wide range of pain conditions, including headaches, muscular aches, joint pain, back pain, menstrual cramps, and general body pain. It can be used for both acute and chronic pain relief.
Q: How does Rahat Pain Capsule work?
A: Rahat Pain Capsule contains a blend of herbal ingredients known for their pain-relieving properties. These herbs work synergistically to reduce inflammation, block pain signals, relax muscles, and promote overall pain relief. The specific mechanisms of action may vary depending on the individual herbs present in the formulation.
Q: Is Rahat Pain Capsule safe to use?
A: Rahat Pain Capsule is generally considered safe for most individuals when used as directed. However, it is always advisable to consult with a healthcare professional, especially if you have any underlying medical conditions, are taking other medications, or are pregnant or breastfeeding. This will help ensure the supplement is appropriate for your specific situation.
Q: Are there any side effects associated with Rahat Pain Capsule?
A: Rahat Pain Capsule is formulated with natural ingredients, which generally have a lower risk of side effects compared to synthetic medications. However, as with any herbal supplement, there is a possibility of individual sensitivity or allergic reactions. It is recommended to read the product label, follow the recommended dosage, and discontinue use if any adverse effects occur.
Q: How long does it take for Rahat Pain Capsule to work?
A: The onset of pain relief may vary depending on the individual and the severity of the pain. Some individuals may experience relief shortly after taking Rahat Pain Capsule, while others may require several doses or a longer duration for noticeable effects. It is important to follow the recommended dosage and give the supplement sufficient time to take effect.